Sexual Assault Kit Initiative (SAKI) Grantee

Alaska Department of Public Safety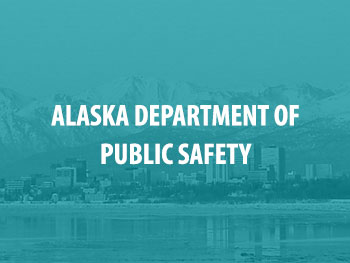 SAKI awarded Alaska Department of Public Safety (AK-SAKI) a grant in the amount of $1.1 million, which it will use to process over 1,000 SAKs. The state will also use the funds to designate a cold case investigator and prosecuting attorney, as well as form a multidisciplinary team to address policy change and ensure a victim-centered approach by law enforcement.
AK-SAKI received additional funding in 2017, which will be used to test more than 50 unsubmitted SAKs from the previous year. The funding will also support the creation of the Alaska Sexual Assault Kit Initiative Research Project; the project will support AK-SAKI by providing statistical and methodological analyses to improve the understanding of police officers' frontline practices.
Please direct all media inquiries to:
News and Events
DPS Publishes Sexual Assault Kit Initiative (SAKI) Interim Report
— Megan Peters, Alaska Native News, Jul 24, 2020
Alaska DPS published their SAKI Interim Report for the public to view. The report details their progress thus far in their SAKI project.
Sexual Assault Kit Initiative Training Aims to Educate, Ease Backlogs
— Timothy Despain, Alaska Native News, Feb 18, 2020
Alaska SAKI completed a statewide training. Colonel Bryan Barlow of the Alaska State Troopers stated, "We owe it to the survivors of these crimes to investigate and follow through on all reported sexual assaults. The SAKI best practices classes are critical to closing the loop on justice and providing closure to survivors across Alaska."
Man arrested in Philippines after DNA ties him to Alaska sexual assault
— Bryan Dunagan, KTVA, Sep 6, 2019
The Alaska State Troopers, with the help of the U.S. Marshals Pacific Northwest Violent Offender Task Force, have arrested a man in the Philippines after a DNA link to a sexual assault in Alaska 18 years ago.
UAA researcher studying sexual assault reporting process in Alaska
— Liz Raines, KTVA, Jul 1, 2019
Researcher Ingrid Johnson is looking for individuals to participate in her study to inform policy for handling sexual assault in Alaska.
DPS: Sexual Assault Kit Initiative to help improve testing procedures, accountability
— Beth Verge, 2 KTUU, Jun 14, 2019
The Alaska SAKI site is taking what they have learned through reviewing their unsubmitted sexual assault kits and applying it to all aspects of their sexual assault investigations.
UAA seeks sexual assault victims for new study
— Lauren Maxwell, KTVA, Apr 17, 2019
Researchers from the University of Alaska-Anchorage are collaborating with the Alaska SAKI site to better understand how sexual assault victims feel about their investigation and their perceptions of justice in Alaska.
Study looks into sexual assault justice
— Shady Grove Oliver, The Arctic Sounder, Mar 1, 2019
The University of Alaska Justice Center is partnering with Alaska SAKI to research law enforcement's response to sexual assault survivors and the outcomes sexual assault survivors face in the justice system.
The evidence from their sexual assault is not languishing in a room somewhere' - a rape kit update from the state
— Rebecca Palsha, KTUU 2, Jan 25, 2019
The Alaska Department of Public Safety has used SAKI funding to test 400 of their 600 previously unsubmitted kits and 50 DNA profiles that were eligible, have been uploaded to CODIS.
Governor signs sexual assault bill
— Makayla Clark, KTVA, Jun 29, 2018
Governor Bill Walker signed a bill into law requiring untested SAKs be reported yearly, reporting of sexual assault to be victim centered, and requires police academies to have 12 hours of sexual assault training.
Alaska to receive federal grant to process over 1000 untested sexual assault kits
— Wesley Early, Alaska Public Media, Oct 4, 2016
Governor Bill Walker announced in 2016 that Alaska will receive $1.1 million in grant funding from the U.S. Department of Justice to process over 1,000 sexual assault evidence kits. The funding will cover SAK testing costs, as well as pay for investigators and prosecutors to process the cold cases. To learn more, read the full article.