Sexual Assault Kit Initiative (SAKI) Grantee

City of Albuquerque (New Mexico)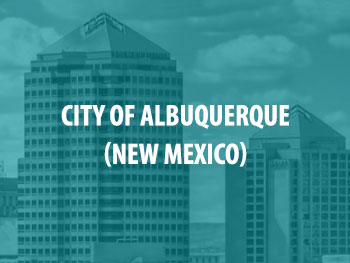 The City of Albuquerque received their first SAKI award in the amount of $2,499,796 in FY2017 to help test more than 5,000 sexual assault kits (SAKs). In addition to testing SAKs, the department has used the grant money to follow up on investigative leads, strengthen victim services through victim notification, and prosecute eligible cases.
In FY2019, the City of Albuquerque was awarded an additional $999,999 to continue their SAKI project. Receiving this additional funding has allowed the City of Albuquerque to migrate their cases into the Sexual Assault Management System database for management of evidence and casework; enhance investigation and victim advocacy support by adopting and implementing improved protocols and technology; review, prioritize, and investigate sexual assault cases; and identify and prosecute cases with the potential to move forward. Funding is also being utilized to hire two DNA analysts, one backlog reduction specialist, and one system-based victim advocate.
As of 2020, the City of Albuquerque has submitted all of their SAKs for testing, enacted a victim-services Sexual Assault Information Line (SAIL), implemented a customized SAK tracking system specific to New Mexico, and developed a victim notification policy for response to sexual assault.
For more information on the specific SAKI awards for this site, see the table below.
City of Albuquerque Funding
| Year | Amount | Purpose Area |
| --- | --- | --- |
| FY2017 | $2,499,796 | Comprehensive Approach to Unsubmitted Sexual Assault Kits |
| FY2019 | $999,999 | Investigation and Prosecution of Cold Case Sexual Assaults |
Please direct all media inquiries to: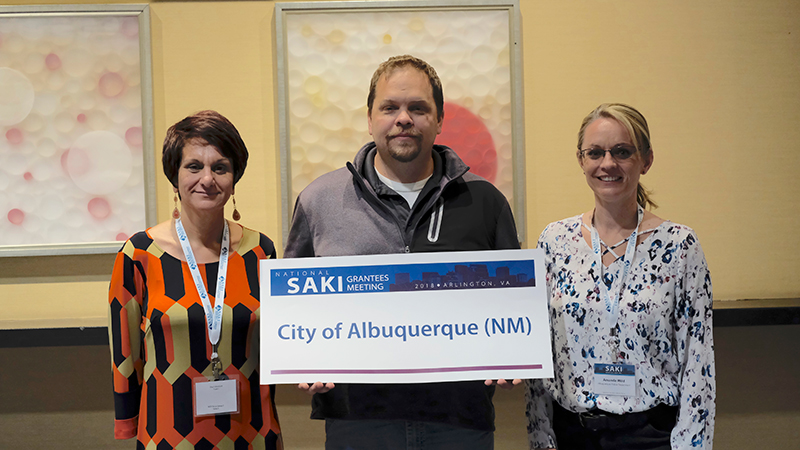 News and Events
Arrest Made in Cold Case Rapes: School Bus Driver Linked to Decades-Old Crimes
— ABQ RAW Staff, Jul 27, 2023
"In a significant development, agents from the Bernalillo County District Attorney's office have arrested a 61-year-old school bus driver named Ralph Anthony Martinez in connection with four cold case rapes that occurred in Northeast Albuquerque during the 1980s and 1990s. The arrest came after a meticulous forensic genetic genealogy DNA investigation conducted by the District Attorney's Sexual Assault Kit Initiative Team (SAKI)."
Sexual Assault Evidence Kit Backlog Reduction Project
— City of Albuquerque, Aug 3, 2022
"The Sexual Assault Evidence Kit (SAEK) Backlog Reduction Project was created to test previously unsubmitted SAEKs, commonly referred to as rape kits or the rape kit backlog, that have accumulated for years. This project will not only submit for testing thousands of SAEKs, but also focus on policy development and change, training, following up on investigative leads, prosecuting eligible cases, enable better reporting of crimes, outreach for the victim notification process, strengthening victim services, and eliminating the possibility of a future backlog."
Suspect arrested after DNA links him to 1999 rape cold case
— Annalisa Pardo, KRQE News 13, Jan 17, 2022
The suspect in an Albuquerque rape cold case from more than 20 years ago is now behind bars. It was another case that fell through the cracks because of the rape kit backlog.
How Forensic Genealogy Solved a 1997 Cold Case Rape
— Tierna Unruh-Enos, ABQ.news, Dec 21, 2021
FGG leads to arrest of suspect in a sexual assault that occurred in 1997. Police have linked this suspect to at least seven other sexual assault cold cases in NE and SE Albuquerque from 1990 to 1994.
Mayor Keller, APD and Community Partners Provide Update on Rape Kit Backlog and Status of Cases
— Albuquerque Police Department, May 4, 2021
In April 2020, the last of the rape kits were sent out for testing, ending the decades-long backlog. "I am so filled with gratitude for the commitment to Survivors that has been announced today," said Jodie Jaramillo, Director of Crisis Services for the Rape Crisis Center of Central New Mexico. "Testing rape kits sends a fundamental and crucial message to survivors of sexual violence: You matter. What happened to you matters. Your case matters.  Now more than ever we need to continue to stand vigilantly with Survivors and do everything in our power to continue to guarantee them justice, equality, and all the civil rights that belong to the people of New Mexico."
Accused rapist back in jail, charged with 2010 sex assault
— Matthew Reisen, Albuquerque Journal, May 30, 2020
DNA from previously unsubmitted sexual assault kit leads to arrest in case from 2010 .
APD: Man arrested after DNA links him to two cold cases
— Christina Rodriguez, KOB 4, Feb 14, 2020
DNA evidence from previously unsubmitted SAK leads to arrest of offender in two rapes, 1 that occured in Albuquerque in 1997 and 1 that occured in Mountain View, CA in 2004.
More indictments, arrest made in oldest unsolved rape case being investigated
— Shellye Leggett, KOAT 7, Apr 4, 2019
Bernalillo County SAKI site made an arrest in the oldest sexual assault cold case from 2006.
Backlog hit leads to third rape charge against man
— Matthew Reisen, Albuquerque Journal, Mar 20, 2019
DNA from a previously unsubmitted sexual assault kit from 2015 led to the arrest of a man who has been charged in two similar rapes from previously unsubmitted sexual assault kits in the past year.
DA gives update on rape kit backlog
— Matthew Reisen, Albuquerque Journal, Mar 7, 2019
The Bernalillo County DA says that they have screened over half of the previously unsubmitted sexual assault kits submitted to them. They have charged four people in connection to backlogged cases.
Suspects facing charges from rape kit backlog to appear in court
— KRQE Media, Feb 8, 2019
Two suspects are facing charges in the first case resulting from testing Bernalillo County's previously unsubmitted kits.
Editorial: NM is closer to ensuring rape victims get justice
— Albuqurque Journal Editorial Board, The Albuqurque Journal, Dec 26, 2018
Albuquerque is working towards submitting all of their previously unsubmitted sexual assault kits.
Mayor: Albuquerque has cleared half its rape kit backlog
— KANW 89.3, Dec 17, 2018
Albuquerque police have submitted 2,900 of their previously unsubmitted sexual assault kits to their city's crime laboratory, cutting their number of previously unsubmitted sexual assault kits in half.
Albuquerque makes progress on rape kit backlog
— The Associated Press, The Durango Herald, Aug 20, 2018
The city of Albuquerque has tested 1,050 of 4,543 unprocessed sexual assault evidence kits as of the end of July.
Grants awarded to begin processing rape kits
— Ryan Boetel, Albuquerque, Oct 2, 2017
The City of Albuquerque received two grants to address thousands of untested rape kits, including $2.5 million through the Bureau of Justice Assistance's National Sexual Assault Kit Initiative.