Sexual Assault Kit Initiative (SAKI) Grantee

City of Duluth Police Department (Minnesota)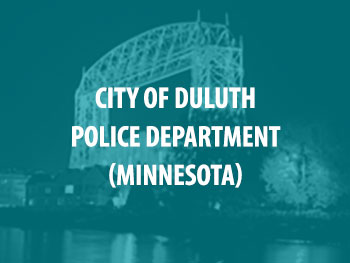 SAKI awarded the Duluth Police Department and its partners a grant of over $1 million, which the department will use to fund a sex crimes investigator, an advocate and SAKI site coordinator, clerical support, and attorney time for the St. Louis County Attorney's Office.
In 2016, SAKI awarded the City of Duluth Police Department additional funding to improve the quality of responses to future reports of sexual assaults. Emphasis will be placed on strengthening the Sexual Assault Nurse Examination (SANE) program, funding a SANE coordinator position, training a full time evidence technician to specialize in SAK maintenance, updating anonymous reporting protocol to increase conversion of anonymous kits to standard reports, and improving the rate that previously unsubmitted SAKS and related evidence are submitted for testing.
Funded in 2015, the City of Duluth's Police Department has used SAKI funding to:
Test more than 100 previously unsubmitted sexual assault kits. Testing these previously unsubmitted SAKs has resulted in: 31 CODIS uploads and 14 hits,10 referrals to prosecution, and 7 suspects charged with Criminal Sexual Conduct-related crimes. In addition, 3 CODIS hits identified previously unknown suspects, who are all currently incarcerated for other criminal offenses.
Implement the Betty Skye information line and email, launched in April 2016, which allows survivors to contact confidential community-based advocates to learn the status of their case and access the full range of advocacy services.
Duluth received an additional $626,835 in SAKI funding in 2017. The additional funding will be used to decrease the time needed to test previously unsubmitted SAKs and increase investigations and prosecutions of non-local suspects for cases that have a previously unsubmitted SAK.
In Duluth, Program for Aid to Victims of Sexual Assault (PAVSA) is helping survivors of sexual assault reconnect with law enforcement in Duluth to determine the status and possible new details about their case. Call the confidential Betty Skye Line to connect with a PAVSA advocate: 218-730-5449 or bettyskyeline@pavsa.org. This line is in memory of Betty Skye, a well-loved survivor and a woman who made a difference in our community.
Duluth received $727,651 in SAKI funds in 2019 to continue the work they have been doing since they received their first award in 2015. With this new funding, they will add teletherapy for survivors and develop protocols for suspect exams conducted by SANEs. The City of Duluth will also enhance PAVSA services to expedite therapy to victims, which will help address potential trauma and prevent revictimization, expand PAVSA SANE services to offer suspect exams, and increase the number of investigations and prosecutions resulting from evidence related to testing sexual assault kits.
Please direct all media inquiries to:
To learn more about their progress, read below for other news and events out of City of Duluth Police Department (Minnesota).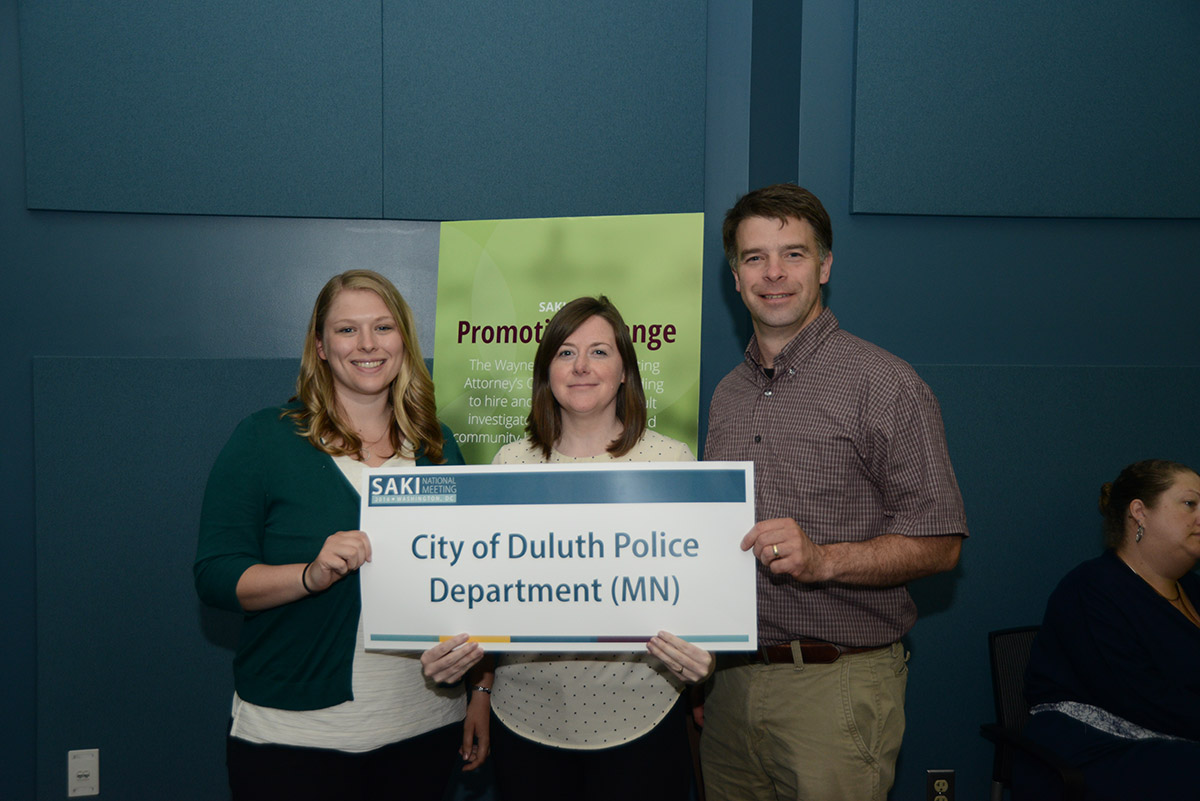 News and Events
With new federal grant, Duluth moves from testing rape kits to prosecuting cases
— Katie Galioto, StarTribune, Dec 11, 2019
During their SAKI project, Duluth has tested 444 kits, that have led to 126 CODIS Hits, 5 convictions, and 13 charges filed,
Suspected serial rapists ID'd by newly tested rape kits
— Brandon Stahl,A.J. Lagoe, Steve Eckert, KARE 11, Oct 17, 2019
DNA tests finally done on her kit have led to criminal charges against two men and One of the men accused is a suspected serial rapist.
Duluth man convicted of sexual assault
— Staff, News Tribune, Jun 21, 2019
DNA from a previously unsubmitted sexual assault kit leds to a conviction of first-degree sexual assault.
Duluth Police: All backlog sexual assault kits tested, investigations ongoing
— Jessie Slater, Duluth 3, May 21, 2019
Duluth, MN has submitted 415 untested SAKs for testing. 50% of those came back with a DNA match in CODIS. 21 cases have been referred to the DA, with 13 cases facing charges and 3 convictions have been made.
Behind Every Kit Is An Individual': Investigators Examine Hundreds Of Untested Rape Kits
— Jennifer Mayerle, 4 WCCO CBS Minnesota, Mar 11, 2019
Duluth, Minnesota has submitted all of their previously unsubmitted sexual assault kits to the state crime lab for testing. 418 kits were submitted, 203 DNA profiles were uploaded to CODIS, and 116 hits in CODIS.
Duluth Hosts National Sexual Assault Reform Conference
— Alejandra Palacios, ABC Eyewitness News, Sep 11, 2018
The Duluth SAKI Site, in partnership with SAKI TTA, hosted the 2018 SAKI Assembly of Cities from September 11th-13th. This three day conference brought together jurisdictions from across the country to discuss sexual assault response reform.
Partners Clear Untested Sexual Assault Kit Backlog
— Baihly Warfield, WDIO-TV, May 21, 2018
The City of Duluth submitted all their previously unsubmitted sexual assault kits to the state crime laboratory for testing. With SAKI funding they will move forward with notifying victims and investigating cases.
Duluth Taking a Second Look
— Tad Vezner, Pioneer Press, Feb 17, 2017
The state of Minnesota is searching for ways address unsubmitted sexual assault kits. Read the full story to learn more about the strategies that the City of Duluth is using to overcome challenges and bring justice to victims.
Previously untested Duluth rape kits sent for analysis
— Baihly Warfield, ABC Eyewitness News, Sep 2, 2016
Minnesota's state mandated all police departments inventory their untested rape kits. This mandate, as well as SAKI funding allowed the Duluth Police Department to begin submitting all 523 of their backlogged SAKs in storage, dating as far back as 1993. To learn more, read the full article.