Sexual Assault Kit Initiative (SAKI) Grantee

City of Durham (North Carolina)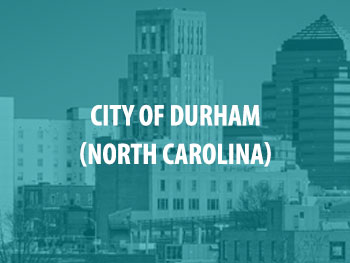 SAKI awarded the City of Durham a $1-million grant in FY2019, which has been used to reduce the number of unsubmitted sexual assault kits (SAKs) by implementing a comprehensive, multidisciplinary plan to inventory, test, and track these SAKs to final adjudication. The City of Durham also plans to improve investigation, victim engagement, and prosecution of cold case sexual assaults by utilizing their multidisciplinary team and hiring a bilingual victim advocate as well as a Special Victims Unit prosecutor.
In FY2020, the City of Durham received an additional $518,667 in SAKI funding to continue work from their initial SAKI award. The City of Durham continues to investigate and prosecute previously unsubmitted SAKs and strengthen their comprehensive victim-centered approach. The latest funding will also be utilized to (1) contract with private laboratories to conduct additional DNA testing when needed and (2) fund a crime analyst specialist position to prepare case materials and upload cases into the Violent Criminal Apprehension Program database. The City of Durham will also use SAKI funding for Forensic Genetic Genealogy to advance investigations.
For more information on the specific SAKI awards for this site, see the table below.
City of Durham Funding
| Year | Amount | Purpose Area |
| --- | --- | --- |
| FY2019 | $1,000,000 | Investigation and Prosecution of Cold Case Sexual Assaults |
| FY2020 | $518,667 | Investigation and Prosecution of Cold Case Sexual Assaults |
Please direct all media inquiries to:
News and Events
DNA analysis helps lead to an arrest in a 1991 Durham rape case
— The News and Observer, AARON SÁNCHEZ-GUERRA, Aug 22, 2023
"A Durham man is accused of breaking into a woman's home and raping her 32 years ago. Kenneth Lunsford, 60, was arrested by the Durham Police Department's Cold Case Unit on Aug. 17 through the state's Sexual Assault Kit Initiative (SAKI), which matched his DNA to evidence collected from a sexual assault kit."
Durham police charge man with rape and kidnapping reported nearly 33 years ago
— The News and Observer, Jun 23, 2023
Nearly 33 years after a woman told police that a man kidnapped and sexually assaulted her, Durham police have charged a man with rape. Samuel Harris, 56, was arrested last week on two counts of first-degree rape and three counts of first-degree sex offense, the Durham Police Department reported in a news release Thursday. Police said his DNA matched evidence collected in a rape kit from August 1, 1990.
Durham police arrest man for sexual assaults allegedly committed in 1993
— WRAL News, Dec 14, 2022
"Durham investigators on Monday arrested a man accused of sexual assaults police say were committed in 1993. Dwight Martin, 64, of Durham, is charged with first-degree rape and first-degree sex offense. Police were able to link Martin to the two sexual assault incidents through the Sexual Assault Kit Initiative (SAKI). The police department's Cold Case Unit received a Combined DNA Index System (CODIS) hit that helped them link the two cases to Martin."
As NC's decades-old rape kits are tested, new DNA evidence emerges
— Carolina Public Press, Aug 30, 2022
"The Sexual Assault Kit Initiative is an example of excellent coordination between Durham law enforcement and the Durham DA's Office to hold people accountable for these violent offenses, even years after the fact," said Durham County District Attorney Satana Deberry in a statement."
Durham Police hope to send remaining 160 untested sexual assault kits from backlog to vendor for testing by year's end
— CBS17, Aug 5, 2022
"In 2018, an inventory of the Durham Police Department found it had 1,711 untested sexual assault kits. Some of the cases went back as far as the 1980s. Since then, Durham police have been working with the state's crime lab to clear this backlog. On Friday, Durham police told CBS 17 that more than 900 of the sexual assault kits from the backlog have been tested, more than 500 are in the process of getting tested and there are 160 they are waiting to send off to a vendor to get tested."
DNA evidence brings guilty pleas in Durham rape cases, one from 17 years ago
— The News & Observer, Aug 3, 2022
"Two men in Durham were convicted of rape in separate "cold cases" Monday, including one that occurred 17 years ago and whose victim died this year before she could see her attacker sentenced. The Durham County District Attorney's Office announced the convictions, which came as a result of previously untested DNA evidence in Durham's Sexual Assault Kit Initiative, according to a news release."
Man pleads guilty to pair of 2015 sexual assaults at Duke hospital and Durham trail
— Tyler Dukes, News & Observer, Oct 26, 2021
A Durham County court sentenced a man to up to 24 years in prison Monday for a pair of 2015 sexual assaults solved as investigators continue to work through a backlog of untested rape kits.
Man faces at least 24 years in prison after pleading guilty in 3 Durham rape cases
— Avi Bajpai, The News & Observer, Aug 19, 2021
A North Carolina man pleaded guilty Wednesday in three rape cases dating back to 2010, and faces a sentence of at least 24 years, the Durham County District Attorney's office said Thursday.
Durham man pleads to sexually assaulting 14-year-old in 2009
— WRAL, Jun 9, 2021
Man sentenced to a minimum of 15 years thanks to the Durham SAKI program and testing previously unsubmitted SAKs.
Man pleads guilty to 2010 rape in Durham, marking 1st conviction from new initiative
— CBS 17 Digital Desk, May 25, 2021
A man pleaded guilty on Tuesday to raping a woman in Durham in 2010. The conviction was the first resulting from the Sexual Assault Kit Initiative involving Durham police and the Durham County District Attorney's Office, a news release said.
How Durham is making new arrests in old rape cases
— ASHAD HAJELA, News and Observer, Apr 15, 2021
Durham PD makes two arrests based on CODIS hits resulting from testing previously unsubmitted SAKs.
New Durham police unit aims to clear backlog of unsolved sex assaults
— Sarah Krueger, WRAL, Feb 18, 2020
"We're here for the survivors of all these cases," he said. "Even though it may be 20, 30 years ago, we're still going to keep working them."
Police charge man in 2015 sex assault on Durham trail, investigate recent assault on second trail
— Sarah Krueger, WRAL, Jan 31, 2020
Police said Thursday that they have made an arrest in a sexual assault more than four years ago in the Ellerbe Creek Trail in Durham.
Durham gets $1 million to help with sexual assault cold cases
— ABC 11, Nov 5, 2019
Durham is getting a million-dollar federal grant to help clear the backlog of untested sexual assault kits. Durham is going to have two investigators working on cases. There will be an in-house victim's advocate as well as a dedicated prosecutor who can help with building a case if a victim feels ready to press charges.