Sexual Assault Kit Initiative (SAKI) Grantee

City of Fayetteville (North Carolina)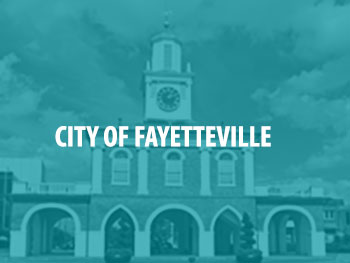 The Sexual Assault Kit Initiative (SAKI) program awarded the Fayetteville Police Department a grant in the amount of $363,090, a portion of which the department will use to test over 100 previously unsubmitted sexual assault kits (SAKs) dating back to 1984. The Rape Crisis Volunteers of Cumberland County will also use a portion of the funds to hire a full-time advocate to assist with the additional demand.
The City of Fayetteville (NC), has used FY 2015 SAKI funding to achieve several goals and milestones:
The Fayetteville Police Department hosted an Interactive Scenario Sexual Assault Response Team training for approximately 40 people from more than a dozen agencies (military and civilian) representing 5 disciplines. Law enforcement, victim advocates, SANEs, prosecution, and laboratory personnel across the jurisdiction learned how to improve the efficiency of their SART.
SAKI funds have allowed the jurisdiction to submit 135 SAKs to private labs for DNA testing. During the testing process, eligible profiles are being uploaded to CODIS.
With 2016 funds, the Fayetteville police department is updating the evidence storage room. These updates include an air filtration system and additional improved cold storage.
Please direct all media inquiries to:
To learn more about their progress, read below for other news and events out of City of Fayetteville (North Carolina).
News and Events
DNA evidence links man to 1990 cold case rap, kidnapping case in Fayetteville
— ABC 11, Nov 27, 2018
Recently discovered evidence links man to cold case rape,kidnapping from 1990.
Somerindyke named Fayetteville Police Officer of the Year
— Michael Futch, The Fayetteville Observer, Nov 16, 2018
Lt. John Somerindyke, head of Fayetteville PD's Special Victims Unit, was named Police Officer of the Year due in part to his dedication to investigating cases that have resulted from previously unsubmitted sexual assault kits and advocating for survivors of sexual assault.
Arrest made in Hoke County rape, kidnapping cold case after rape kit is sent for DNA testing
— ABC 11 Eyewitness News, Nov 2, 2018
Detectives with the Fayetteville Cold Case Sexual Assault Unit have made an arrest in a 21 year old case thanks to DNA recovered from a previously unsubmitted sexual assault kit.
Fayetteville police make arrest in 2006 sexual assault case
— Nancy McCleary, Fayetteville Observer, Jun 5, 2018
The Fayetteville Police Department made an arrest in connection with a statutory rape case from 2006. This is the first arrest resulting from testing funded by their SAKI award.
Fayetteville police make progress in sex assaults after 300+ rape kits trashed
— Robert Richardson, CBS North Carolina, Jul 17, 2017
Between 1995 and 2008, the Fayetteville's Police Department's Sexual Victim's Unit Commander discovered 333 sexual assault kits that had been destroyed. Since the findings, Fayetteville has launched a cold case sexual assault unit and working diligently in training law enforcement on investigations involving sexual assault. To learn more, read the full article.
Fayetteville police awarded $793,372 grant to help rape victims get justice
— Alan Wooten, FayObserver, Sep 28, 2016
Recent funding from the U.S. Department of Justice will allow Fayetteville, North Carolina law enforcement personnel to test over 500 previously unsubmitted sexual assault evidence kits. Police department staff will also use the funding to pay for investigators and prosecutors to solve cold cases resulting from testing DNA matches. To learn more, read the full article.
Fayetteville police make 12th cold case arrest
— Gilbert Baez, WRAL.com, Mar 23, 2016
In March 2016, the Fayetteville Police Department made its 12th arrest in connection to a decades-old crime of sexual assault. This success comes after the department received $363,000 in federal funding to test its backlogged sexual assault evidence kits dating as far back as 1984. To learn more about what is being done in Fayetteville, NC, read the full article.