Sexual Assault Kit Initiative (SAKI) Grantee

Hawaii County of the Prosecuting Attorney (Hawaii)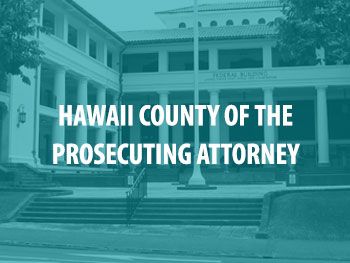 The Hawaii County Office of the Prosecuting Attorney received $769,895 in SAKI funding in FY2019. This funding will be used to expand upon the work that began with the statewide Hawaii Sexual Assault Response Team (HSART). This team also received SAKI funding in FY2016 through the Hawaii Department of the Attorney General. Hawaii County will use this new funding to further investigate and prosecute sexual assault kits that were tested under the Hawaii Department of the Attorney General's SAKI award, provide training to prosecutors and law enforcement, and develop a local SAKI taskforce. They also plan to assign a victim counselor to every SAKI case. This person will be responsible for answering victims' questions and will assist victims in obtaining needed services.
For more information on the specific SAKI awards for this site, see the table below.
Hawaii County of the Prosecuting Attorney Funding
| Year | Amount | Purpose Area |
| --- | --- | --- |
| FY2019 | $769,895 | Investigation and Prosecution of Cold Case Sexual Assaults |