Sexual Assault Kit Initiative (SAKI) Grantee

Iowa Department of Justice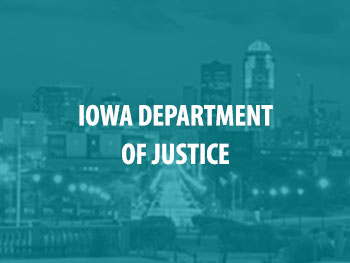 The Iowa Department of Justice's Crime Victims Assistance Division was awarded a $2-million SAKI grant in FY2015 and received a $1-million supplemental award in FY2016 to develop a comprehensive, statewide approach to addressing previously unsubmitted sexual assault kits (SAKs). During 2015-2021, the grant money was used to test approximately 4,000 SAKs and provide trauma-informed training for case investigations and prosecutions that resulted from testing. Grant funds were also used to host two sessions of the Interactive Scenario Sexual Assault Response Team training, which gave professionals from various disciplines an opportunity to come together to learn and work through a scenario-based exercise with a cold case focus.
Through their time as a SAKI grantee, the Iowa Department of Justice has designed a standardized sexual assault consent and information form that accompanies each SAK. This form also provides clarity about the victim's desire for SAK testing, information about SAK storage under Iowa law, and details about how the victim can proceed if their desire changes during the statutory storage period. On their website, the Iowa SAKI team has implemented an opt-in victim notification process; other resources for sexual assault survivors are also available on the website.
For more information on the specific SAKI awards for this site, see the table below.
Iowa Department of Justice Funding
| Year | Amount | Purpose Area |
| --- | --- | --- |
| FY2015 | $ 2,000,000 | Comprehensive Approach to Unsubmitted Sexual Assault Kits |
| FY2016 - supplemental award | $1,000,000 | Comprehensive Approach to Unsubmitted Sexual Assault Kits |
Please direct all media inquiries to:
To learn more about the Iowa Department of Justice's progress, read the following news and events..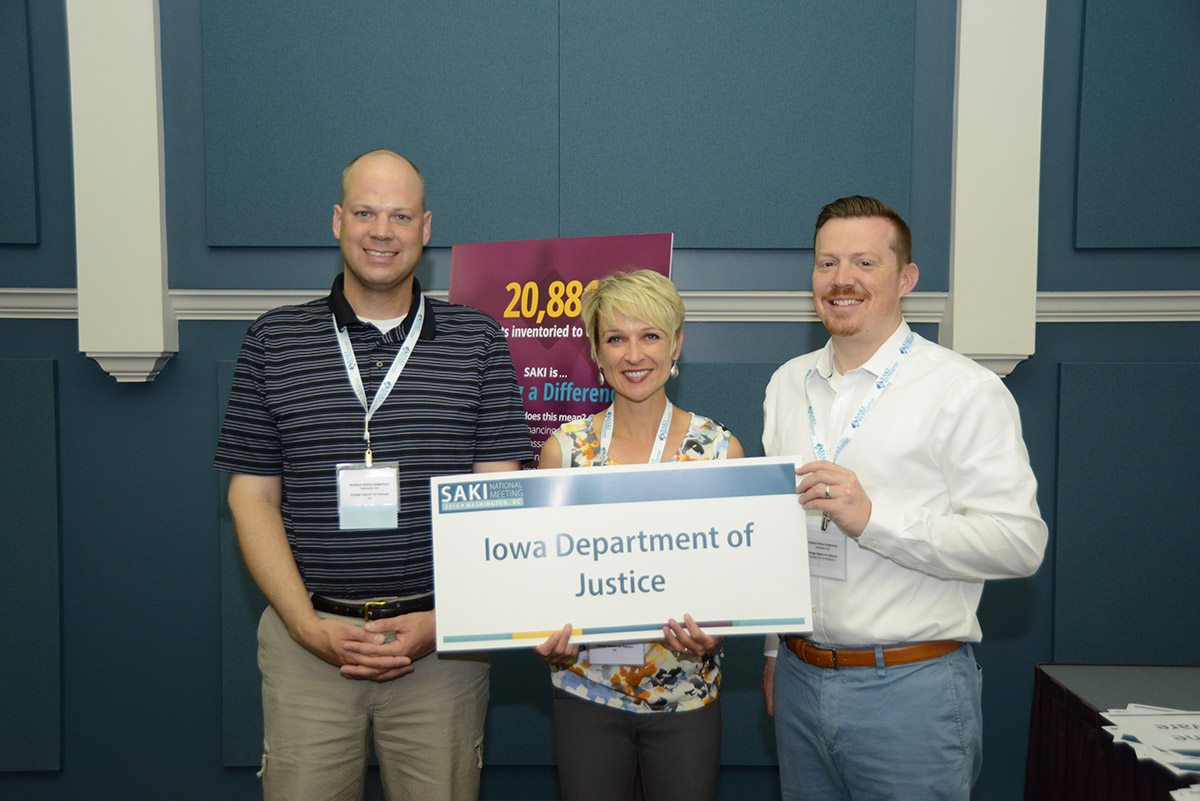 News and Events
First statewide tracking system created to better Iowa's sexual assault kit testing capabilities
— Innovation Iowa, Jul 11, 2022
"4,275. That was the number of unsubmitted, untested sexual assault kits in Iowa in March 2017. Before then, no one in Iowa knew that number. Not hospital staffs, not the state's crime lab, not law enforcement agencies. Sandi Tibbetts Murphy, director of the Crime Victim Assistance Division (CVAD) of the Iowa attorney general's office, said "many of them were just sitting in locked evidence rooms at local police departments," and some were destroyed due to a lack of knowledge on storage procedures or damage from flooding."
Iowa releases findings in sexual assault kit tracking initiative
— KCCI Des Moines, Nov 20, 2021
The Iowa SAKI project tested more than 1,600 sexual assault kits, which resulted in four criminal charges and two convictions. "We applaud this six-year effort to improve how sexual assault kits are handled," Attorney General Tom Miller said. "Not only has the SAKI program been able to reduce the number of untested sexual assault kits, it has also created meaningful and lasting changes to the processes by which state and local practitioners respond to and investigate sexual assault cases."
Mills County Man Convicted of 2003 Kidnapping and Sex Offenses
— Iowa Department of Justice, Oct 8, 2021
On Wednesday, October 6, 2021, Myron Lee Brandon, age 43, of Pacific Junction, Iowa, was found guilty in federal court of two counts of kidnapping and two counts of transportation of a minor with intent to engage in criminal sexual activity. This was the first jury trial in the State of Iowa using DNA evidence processed by the Sexual Assault Kit Initiative.
Iowa governor signs bills into law to help sexual assault victims
— KWQC Staff, May 19, 2021
Gov. Kim Reynolds signed two bills on Wednesday to assist survivors of sexual assault. "I want sexual assault survivors to know that their case matters, that they matter," Miller said. "These laws provide critical services to survivors and increase accountability and transparency in the investigations of these crimes."
Iowa rolls out new system to track sexual assault test kits
— KWQC 7, Oct 24, 2020
Iowa officials are rolling out a new system to track sexual assault evidence collection kits. Currently, 75% of law enforcement have access to the system. Each person examined for sexual assault evidence also will be given a login to track the progress of their kit.
With thousands of rape kits untested, Iowa will implement a new tracking, reporting system
— Danielle Gehr, Des Moines Register, Nov 12, 2019
Iowa is launching a new tracking and reporting system for evidence kits collected from sexual assault victims in July 1, 2020.
Iowa launches website to help victims of sex assault
— Josh Scheinblum, KCRG, Mar 7, 2018
Iowa has launched a website to provide resources to those who've been victimized and provide information on law enforcement best practices. Survivors of sexual assault can also use the site to check the progress of their case.
Follow-up file: State officials say 95 untested sexual assault kits sent for testing
— Tara Becker, Quad-City Times, Aug 6, 2017
The Iowa Attorney General's Office is pleased to announce that it has begun submitting it's more than 4,200 unsubmitted backlogged rape kits to the laboratory. To learn more, read the full article.
Attorney General Statewide Law Enforcement Survey Finds 4,265 Untested Sexual Assault Evidence Kits
— Iowa Department of Justice Office of the Attorney General, Mar 7, 2017
The Iowa Attorney General's Crime Victim Assistance Division has completed an audit of unsubmitted sexual assault kits in the state. The audit identified 4,265 untested sexual assault kits in city and county law enforcement agencies. Read the full story to learn more about the inventory results and Iowa's next steps.
Iowa gets $2 million to inventory untested rape kits
— The Des Moines Register, Sep 10, 2015