Sexual Assault Kit Initiative (SAKI) Grantee

City of Jacksonville (Florida)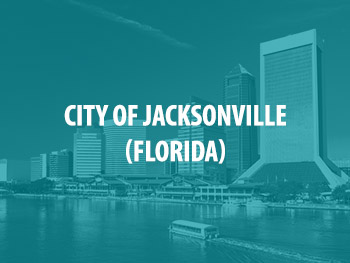 In FY2016, SAKI awarded the Jacksonville Sheriff's Office (JSO) a grant of more than $672,000 to complement the FY2015 SAKI grant awarded to the State Attorney's Office, Fourth Judicial Circuit of Florida. The JSO used the funds to provide investigative resources—such as overtime pay for detectives and crime analysts—and to cover travel and training expenses. The JSO also used the funds to hire a project manager to work closely with the FY2015 SAKI multidisciplinary team and internal staff, as well as to renovate the office's property and evidence room for enhanced tracking and storage.
In FY2020, the City of Jacksonville was awarded an additional $1 million in SAKI funding to begin testing items of secondary evidence related to sexual assault kits that failed to yield probative results from DNA testing. The funding is also being used to support two positions (a full-time detective and site coordinator), as well as investigative overtime and crime analysis overtime to identify suspects and locate sexual assault survivors.
For more information on the specific SAKI awards for this site, see the table below.
City of Jacksonville Funding
| Year | Amount | Purpose Area |
| --- | --- | --- |
| FY2016 | $672,284 | Comprehensive Approach to Unsubmitted Sexual Assault Kits |
| FY2020 | $1,000,000 | Comprehensive Approach to Unsubmitted Sexual Assault Kits |
Please direct all media inquiries to:
News and Events
Warrant: Man arrested 16 years after woman reported sexual battery
— Brie Isom, News4Jax, Dec 17, 2021
A man is facing a sexual battery charge more than 16 years after a woman reported it to police thanks to testing previously untested DNA evidence
Man charged with 1st-degree murder in 1985 killing of Jacksonville teen
— Renee Beninate, News 4 Jax, Aug 19, 2021
#SAKISuccess! @JSOPIO charge man in 1985 slaying of teen thanks to DNA evidence and the support of @projectcoldcase
Convicted serial rapist faces new charge after rape kit test
— Jenese Harris, Frank Powers, News4JAX, Jul 2, 2019
A convicted serial rapist who was serving prison time is facing a new sexual assault charge from 2010 based on DNA from a previously unsubmitted sexual assault kit.
23-year-old rape kit leads to arrest of Jacksonville man serving life sentence
— Bridgette Matter, Action News Jax, May 28, 2019
A local rape kit tested 23 years after the crime has led to an arrest thanks to a hit in CODIS
City leaders, advocates shine light on sexual assault
— Crystal Moyer, News 4 JAX, Apr 3, 2019
City leaders and victim advocates joined forces Wednesday morning at Jacksonville's City Hall to encourage victims of sexual assault to come forward and show their support during SAAM.
Women's Center of Jacksonville plans events for Sexual Assault Awareness Month
— Beth Reese Cravey, Jacksonville.com, Mar 28, 2019
The Woman's Center of Jacksonville, FL will hold several events for SAAM including denim day for local businesses, an art exhibit, and hosting an event to honor local individuals making a difference in women's lives.
Convicted sex offender found guilty of 2006 Jacksonville rape
— Frank Powers, News JAX 4, Mar 20, 2019
A man was convicted of two counts of sexual assault from 2006 after his DNA was discovered in a previously unsubmitted sexual assault kit from the incident when it was sent for testing by the FDLE.
Sex offender charged in 2006 Jacksonville rape
— Tarik Minor, News 4 JAX, Mar 1, 2019
DNA evidence from a 2006 previously unsubmitted sexaul assualt kit in Jacksonville, FL led to the arrest of a man who has previously been charged and served time for multiple sexually based crimes.
Rape kit leads to arrest in 2011 case
— Melanie Schultz, News4 JAX, Apr 6, 2018
As the result of a recently tested SAK, the Jacksonville Sheriff's Office arrested a map in a 2011 case.
I-TEAM: Sex offender charged in 2006 Jacksonville rape
— Tarik Minor, News4 JAX, Mar 29, 2018
A sex offender recently released from prison has been arrested in relation to a 12-year-old rape case. This arrest is a result of the Florida Department of Law Enforcement processing unsubmitted sexual assault kits.
New DNA tests prompt arrest of serial rape suspect
— Corley Peel and Frank Powers, News4 JAX, Mar 19, 2018
Jacksonville Sheriff's Office has arrested a convicted rapist with three more sexual assaults from 2008 to 2009.
Rape kit tested 2 decades later leads to arrest
— Francesca Amiker, News4 Jax, Jan 16, 2017
A 1995 sexual assault case was solved, and the perpetrator was arrested on sexual battery charges after the sexual assault kit was tested. The sexual assault kit was tested in 2014 under state efforts to test all unsubmitted sexual assault kits. The Florida Department of Law Enforcement is using state and federal funding to allow for processing previously unsubmitted sexual assault kits. Remaining kits are expected to be submitted to the FDLE crime lab early in 2017. For more information, read the full story.
Jacksonville Sheriff's Office getting federal funding for rape kit testing backlog
— Michael Yoshida, CBS 47, Nov 21, 2016
A federal grant will help Jacksonville, Florida law enforcement test a backlog of approximately 1,800 untested rape kits. The grant will also help fund Jacksonville staff training and the renovation of the property and evidence room. To learn more, read the full article.