Sexual Assault Kit Initiative (SAKI) Grantee

Maricopa County Attorney's Office (Arizona)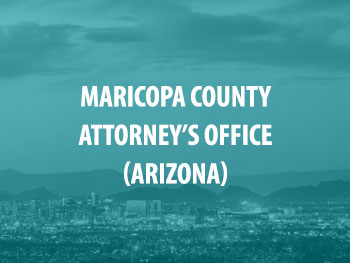 The Maricopa County Attorney's Office (MCAO) was awarded a grant in the amount of $1,232,705 in FY2016, which has been used to test sexual assault kits (SAKs), as well as investigate and prosecute cases involving SAKs. With the SAKI grant, MCAO hired a full-time cold case sex crimes investigator; the funding is also used to pay part of a cold case sex crimes prosecutor's salary to work on SAKI cases.
MCAO received additional SAKI funding in FY2017 in the amount of $1,199,503. This money is being used to continue testing SAKs. The funding also supported the hiring of four new staff members in various roles as part of the SAKI program—including a detective, crime analyst, and victim advocate; multiple paralegal and legal support positions have also been added.
In FY2018, MCAO received an additional $1.5 million from SAKI to expand their foundation and build upon the existing infrastructure; with these efforts in mind, MCAO hired an additional investigator, prosecutor, victim advocate, paralegal, and crime analyst. MCAO continues to outsource SAKs for advanced DNA testing and develops ongoing trainings for use across the county and state.
In FY2021, MCAO received another round of SAKI funding in the amount of $2,499,662 to inventory and test SAKs that had only serological screening completed or used DNA methodologies that are not eligible for the Combined DNA Index System. MCAO will continue its efforts to provide follow-up, investigation, victim notification, and prosecution of cases identified through previously unsubmitted SAKs and current grant funding. MCAO will also continue to work collaboratively with law enforcement and other community partners to prosecute defendants and bring closure to sexual assault victims.
For more information on the specific SAKI awards for this site, see the table below.
Maricopa County Attorney's Office Funding
| Year | Amount | Purpose Area |
| --- | --- | --- |
| FY2016 | $1,232,705 | Comprehensive Approach to Unsubmitted Sexual Assault Kits |
| FY2017 | $1,199,503 | Comprehensive Approach to Unsubmitted Sexual Assault Kits |
| FY2018 | $1,500,000 | Comprehensive Approach to Unsubmitted Sexual Assault Kits |
| FY2021 | $2,499,662 | Comprehensive Approach to Unsubmitted Sexual Assault Kits |
Please direct all media inquiries to:
Amanda Steele
602-506-3170
News and Events
Authorities identify killer in 1987 cold case on Arizona hiking trail
— AZ Family Digital News Staff, Aug 26, 2023
"The murder of 23-year-old Cathy Sposito was unsolved, but remained open and active for 36 years. Cathy rode her bike to a trailhead and began a hike. However, hikers in the area later reported hearing screams for help. By the time they found Sposito, she was dead. Investigators found she was shot in the eye, stabbed and hit in the head with a rock and ratchet. Sheriff David Rhodes named Bryan Scott Bennett as Sposito's killer. Bennett also allegedly had more victims in northern Arizona who were attacked and sexually assaulted. SAKI funds were used to support the genealogy work as well as travel for the investigation and exhumation of Bennet's remains."
The Maricopa County Sheriff's Office has announced an arrest in the 2008 sexual assault of a 13-year-old girl, thanks to DNA evidence from a previously untested sexual assault kit.
— 12News.com, May 8, 2023
"The sexual assault allegedly occurred at a party in the summer of 2008. The victim said two males lured her into a bedroom and assaulted her before a 17-year-old boy intervened and stopped the assault. MCSO said investigators collected evidence and interviewed witnesses before the case became inactive in 2009 after the victim chose not to participate in the investigation. The victim died in May 2015. In 2017, the agency received additional funds through the Sexual Assault Kit Initiative to test evidence from the 2008 case. The national initiative allocated money for agencies to process evidence from untested rape kits. The testing done in 2017 identified the DNA profile of a male, which was entered into a law enforcement database. About a year later, Rzeczycki was allegedly matched to that DNA profile. "
Maricopa County gets $3M grant to help solve cold cases
— Daily Independent, Oct 28, 2022
"Maricopa County received a $3 million grant from the U.S. Department of Justice for DNA testing on cold cases and collecting evidence through sexual assault kits. The county approved $500,000 in grant funding from the Office of Justice Funding for the use of prosecuting cold cases with DNA. The funding will be used to investigate and bring cold case violent crimes for prosecution and closure."
1989 Mesa cold case solved using advanced DNA and fingerprint tech; suspect arrested in Colorado with the assistance of SAKI funds for genealogy
— Stephanie Bennett, Fox 10 Phoenix, Apr 26, 2022
"A cold case is now solved after more than three decades and a Mesa man has been arrested for the alleged murder of a young woman. 22-year-old Susan Amy Morse was found dead in her apartment near Country Club Drive and Southern Avenue back in 1989. The FBI and MPD arrested Thomas Cox for violent crimes he allegedly committed over 30 years ago. Using advanced DNA and fingerprint technologies, Cox was identified as the suspect in two separate cases. ""We just constantly look for stuff. When there's new technology or new techniques on how to identify a suspect or examine evidence we buy into that, and we re-examine the evidence as the years go on and in this particular case it worked out dramatically,"" said MPD Sgt. Chuck Trapani."
Maricopa County gets $3M to solve cold cases, test rape kits
— 12 News Staff, Feb 1, 2022
Maricopa County Attorney's Office awarded $2.5 million to fund additional testing for DNA evidence collected through sexual assault kits from SAKI.
Suspect arrested in connection to sexual assault on ASU campus
— 12 News, Oct 29, 2021
Maricopa County District Attorney's Office assists Tempe Police in connecting man to sexual assault on ASU's Tempe campus thanks to DNA evidence.
Alleged serial rapist arrested in Phoenix after 15 years
— Tyler Dukes, News & Observer, Oct 28, 2021
An alleged serial rapist has been arrested in Phoenix and faces multiple charges after three separate allegations of sexual assault over a 15-year period.
Suspected 'East Valley Rapist' arrested after 22 years on the run
— AZFAMILY.COM, May 5, 2021
Man is arrested in a series of sexual assaults between July of 1999 and October of 2001 based on DNA evidence and collaboration between multiple agencies.
How EV prosecutor got justice for rape victims
— Jim Walsh, East Valley Tribune, Jul 14, 2019
Maricopa county has experienced great success in their efforts to test all of their previously unsubmitted sexual assault kits and only need to send 200 more kits for testing.
Maricopa County close to clearing out backlog of 4,500 rape kits
— Jessica Swarner, KTAR News, May 24, 2019
90% of the kits in the backlog have been fully tested. The 250 kits that remain are expected to be completed by the end of the year. Of the kits that have been tested, 754 resulted in a "DNA hit" in CODIS.
DNA testing on backlog of rape kits in metro Phoenix has produced results
— Kevin Stone, KTAR News, Mar 14, 2019
Maricopa county has submitted 93 percent of their previously unsubmitted sexual assault kits for testing and testing has resulted in 14 indictments and 7 convictions.
State getting convictions as it slowly works through rape kit backlog
— Philip Athey, Cronkite News, Apr 20, 2018
As of March 2018, Arizona has tested 54 percent of their backlog of 6,424 untested sexual assault kits. To prevent a future backlog in Arizona, state law now requires that all new rape kits be tested within 15 days.
Committed to clearing untested rape kit backlog
— Office of the Governor Doug Ducey, Oct 17, 2016
Governor Doug Ducey established a task force in January 2016, known as Executive Order 2016-02, dedicated to inventorying Arizona's untested rape kits, making recommendations about testing the kits, and creating policies to ensure the kits are tracked more efficiently in the future. He recently received a report from the task force outlining a plan to address the injustice of the untested rape kits, and suggested that all local jurisdictions adopt a test-all approach as well as contract with a vendor to establish a state-wide evidence tracking system.
Maricopa County Attorney's Office and Phoenix Police Department awarded more than $2 million in grants to test rape kits
— Amanda Jacinto, Maricopa County Attorney's Office, Oct 3, 2016
The Phoenix Police Department and Maricopa County have each received funding from the U.S. Department of Justice to analyze and test previously unsubmitted sexual assault kits. Both entities will also use the funding to train staff, investigate cold cases, and process evidence surrounding sexual assault. To learn more about Arizona's efforts to combat sexual assault, read the full article.