Sexual Assault Kit Initiative (SAKI) Grantee

Orleans Parish (Louisiana) District Attorney's Office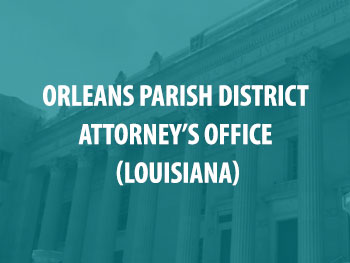 SAKI awarded the Orleans Parish District Attorney (DA) a grant totaling $1,009,485. The DA will use the funds to create a Vertical Prosecution Unit for SAKI cases and provide resources for investigation and prosecution of cold case sexual assaults, including (1) locating suspects and witnesses and (2) providing victim support and crime analysis.
Please direct all media inquiries to:
The New Orleans SAKI Multidisciplinary Team has created a great resource for survivors. See the brochure.
News and Events
Man sentenced to 40 years for kidnapping, rape
— Fox 8, Nov 20, 2018
DNA evidence found from a previously unsubmitted sexual assault kit from 2006 that was tested using SAKI funds, leds to a conviction.
Inside look at how New Orleans DA's Office unit uses DNA to crack years-old rape cases
— Matt Sledge, The Advocate, Jul 18, 2018
The New Orleans District Attorney's Office has used SAKI funding to reopen old rape cases. So far, prosecutor's have used DNA to solve 17 crimes including a case from 1986.
DNA links La. inmate to 1988 New Orleans rape: DA
— Heather Nolan, The Times-Picayune, Jul 12, 2018
A Louisiana man currently serving time for attempted rape has been linked via DNA to a 30-year-old rape case in New Orleans.
With $1 million grant and DNA, DA's office hopes to bring closure to long-unsolved rapes
— Heather Nolan, The Times-Picayune, May 18, 2018
With funding from the National Sexual Assault Kit Initiative, the New Orleans SAKI Unit has indicted 11 cases, has another 57 cases currently open and is investigating hundreds of CODIS hits.
6 women were kidnapped and raped in New Orleans in the 1980s. The accused attacker was just charged
— Emily Lane, The Times-Picayune, Mar 22, 2018
Through the work of the New Orleans Sexual Assault Kit Initiative unit, a man was indicted for the kidnapping and rape of six women from more than 30 years ago.
La. inmate indicted in 2 cold case rapes in New Orleans
— Heather Nolan, The Times-Picayune, Mar 22, 2018
A man already serving time for a 2012 sexual assault conviction has been indicted by New Orleans District Attorney's Office in two previously unsolved rape cases.