Sexual Assault Kit Initiative (SAKI) Grantee

State of Utah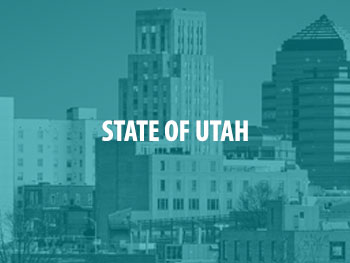 Utah Commission on Criminal and Juvenile Justice
In FY2015, Utah's Commission on Criminal and Juvenile Justice (CCJJ) received $1,999,680 in SAKI funding. This funding helped to increase support for—and improve the systematic response to—sexual assault victims, improve transparency throughout the criminal justice process, enhance the prosecution rates of sexual violence cases, reduce processing times for sexual assault kits (SAKs), and advocate for policy changes at the state and local levels.
The following list highlights CCJJ's accomplishments:
Received an additional $2,208,493 in FY2017 to continue working toward their SAKI goals. Since receiving both awards, CCJJ has made several achievements to date. In September 2016, they began a case review process. The team uses a multidisciplinary approach to assess the potential for prosecuting cold case sexual assaults once DNA evidence is obtained from unsubmitted SAKs. To date, the team has reviewed 86 cold cases and the district attorney has filed 10 cases.
Launched a victim information line in July 2017 for victims to inquire about their unsubmitted SAKs. In the first 2 months, the information line received 7 calls.
Created a Victim Therapeutic Fund to assist sexual assault survivors who have unsubmitted SAKs.
Launched the Utah Department of Public Safety Sexual Assault Kit Tracking System in May 2018. Survivors can use the system to track the status of their SAKs in Utah. Click here to view the system.
Announced plans to complete testing of all SAKs in the backlog by the end of 2020.
Utah Department of Public Safety
In FY2020, the Utah Department of Public Safety (DPS) was awarded $1.5 million in SAKI funding to serve as the primary grant recipient after previously being a subawardee to the Utah Commission on Criminal and Juvenile Justice. The funding will allow DPS to continue efforts on the work already being conducted under SAKI. DPS intends to build a Cold Case Investigative Unit to investigate violent crime cold cases; personnel in this new unit will include SAKI team members and existing staff.
For more information on the specific SAKI awards for this site, see the table below.
State of Utah Funding
Year
Amount
Purpose Area
Utah Commission on Criminal and Juvenile Justice
FY2015
$1,999,680
Comprehensive Approach to Unsubmitted Sexual Assault Kits
FY2017
$2,208,493
Comprehensive Approach to Unsubmitted Sexual Assault Kits
Utah Department of Public Safety
FY2020
$1,500,000
Comprehensive Approach to Unsubmitted Sexual Assault Kits
Please direct all media inquiries to:
Lieutenant Chad Jensen, Utah Department of Public Safety, State Bureau of Investigation - Major Crimes
chadjensen@utah.gov
801-965-4747
News and Events
Fugitive who faked his death can be extradited to Utah to face a rape charge
— Brian Melley Associated Press, KSLTV, Aug 2, 2023
"The documents allege that Rossi raped a former girlfriend he had met on myspace.com and briefly dated in Orem, Utah. The woman reported the sexual assault to a local hospital and her rape kit was tested as part of the "sexual assault kit initiative" in 2017. The DNA found connected investigators to Rossi."
Utah State football player arrested after DNA processed from 10-month-old rape kit
— KJZZ.com, KUTV, Jul 11, 2023
"Police on Monday arrested a Utah State University football player in connection to an undercover drug distribution investigation in April a rape investigation that began in September 2022. Utah in 2020 was the eighth state to completely clear its rape kit backlog following a 2017 law that mandated a time frame for all kits to be tested, setting aside $1.6 million that yera to get the job done - an amount that forensic scientists said wasn't enough to keep up with the new kits, according to a 2022 report from the Utah Bureau of Forensic Services."
Utah suspect hiding in Scotland arrested after sexual assault kit tested
— Melanie Porter, Fox 13, Jan 12, 2022
A suspect who is connected to at least two different sexual assaults was arrested and will be extradited to Utah after a sexual assault kit was tested and a case from 2008 was reopened. "Our office is grateful for the significant interagency collaboration of law enforcement to bring this suspect to justice. We credit Utah's Sexual Assault Kit Initiative grant funded through the Department of Justice and the Bureau of Justice Assistance as playing a significant role in testing backlogged kits and ultimately identifying the suspect," said Utah County Attorney, David Leavitt."
Man found guilty of raping a teenager 18 years ago, due to a retest of the victim's rape kit
— Emily Ashcraft, KSL.com, Dec 11, 2021
Man was found guilty of a 2003 rape of a minor on Thursday after a two-day jury trial and a jury deliberation that was shorter than two hours thanks to DNA evidence tested by Utah SAKI.
Utah's rape kit testing backlog is gone; good news for victims, police and prosecutors
— Mark Shenefelt , Standard Examiner, Aug 18, 2020
Utah's backlog of rape kit testing has been eliminated.
State says 97% of backlogged rape kits have now been tested
— Christine Flores, KUTV, Jul 27, 2020
SAKI project updates from Utah. Thus far, there have been 4,481 SAKs tested, and 2,594 DNA profiles to the CODIS database. Of those, 1,072 suspects have been identified — and through that process, 287 serial rapists/sex offender have been identified. This has led to 34 prosecutions in Utah.
Tracking sexual assault kits: New system keeps 1,500+ survivors informed
— Rosie Nguyen, ABC 4, Jun 28, 2019
Since the Utah Department of Public Safety launched the Sexual Assault Kit Tracking System last June, experts said 1,598 victims have used the online tool. In the last three years, they site has been able to test 3,304 kits, upload 1,548 DNA profiles to the FBI's Combined DNA Index System (CODIS), and identified 628 suspects in CODIS.
The Justice Files: Arrest made in rape cold case
— Marcos Ortiz, ABC4.com, Apr 12, 2019
DNA from a previously unsubmitted sexual assault kit in Utah led to an arrest of a suspect who's DNA was in a state system due to a previous arrest and Utah mandate.
DPS holds sex crime training to provide better resources for victims
— Peter Valencia, ABC 4, Feb 21, 2019
Utah's Department of Public Safety hosted their second training for sex crime investigators. During this training, a registered nurse discussed the role that SANEs have in sexual assault investigations.
'You can get justice': Utah rape kit initiative pushing for prosecution statewide
— Ashley Imlay, Deseret News Utah, Jan 1, 2019
The Utah Sexual Assault Kits Initiative prosecuted its first case resulting from testing a previously unsubmitted sexual assault kit from 2009.
Rape kit testing leads to charges in 2006 case
— Ashley Imlay, Deseret News, Oct 22, 2018
A 12-year-old sexual assault kit processed through the Salt Lake County Sexual Assault Kit Initiative leads to an arrest. This kit was among the more than 2,000 previously unsubmitted sexual assault kits that have been sent to the Utah State Crime Lab for DNA testing
Hotline breaks 12-year-old rape cold case
— Pat Reavy, Deseret News Utah, Oct 4, 2018
DNA testing and the establishment of a hotline by the Utah Department of Public Safety has lead to charges in the 2006 kidnapping and rape of a then 16-year-old girl.
Southern Utah officials receive training on tracking sexual assault kits
— Markee Heckenliable, St George News, Aug 1, 2018
A group of trainers from the Utah Commission on Criminal and Juvenile Justice has been traveling the state to provide free training to law enforcement, sexual assault nurse examiners, and victim advocates on use of a tracking system and other requirements of HB200.
New DPS online tool allows victims to track sexual assault kits
— Rosie Nguyen, Good4Utah.com, Jun 6, 2018
The Utah Department of Public Safety and Commission on Criminal and Juvenile Justice announced the launch of a statewide evidence tracking system. Survivors can access real-time information about their SAK through the system.
Utah Hotline Set up for Victims to Get Updates on Rape Kits
— The Associated Press, U.S. News, Jul 20, 2017
Salt Lake County and state officials have created a hotline for use with survivors of sexual assault in order for them to get updates on the status of their rape kit. The Utah Crime Director also recently reported that the laboratory has completed testing of about half of the backlogged rape kits in Utah.
Utah's SAKI Website Updated
— Utah Office on Domestic and Sexual Violence, Jul 1, 2017
Utah's SAKI website has been recently updated with resources about their Sexual Assault Kit Information Line, the SAKI Therapeutic Treatment Fund, and monthly working group meeting minutes. To learn more, read the full article.
Salt Lake police: Hundreds of once-backlogged rape kits now submitted to crime lab
— Ben Lockhart, KSL, May 20, 2016
The Salt Lake City Police Department have submitted all of their backlogged sexual assault kits to the Utah State Crime lab, a total of 768 kits. Kits in Salt Lake County will be tested through the partnership with DANY and SAKI.