Sexual Assault Kit Initiative (SAKI) Grantee

New Mexico Second Judicial District Attorney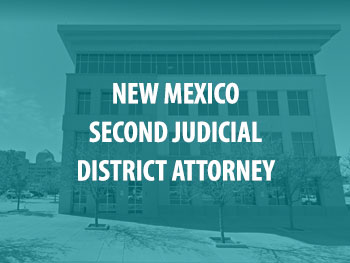 The New Mexico Second Judicial District Attorney's Office received a $1,000,000 SAKI award in fiscal year 2018 from the Bureau of Justice Assistance. The District Attorney's Office will utilize this funding to enhance the prosecutorial processes that have resulted from the testing of sexual assault kits in the city of Albuquerque and Bernalillo County. The City of Albuquerque Police Department received SAKI funding in fiscal year 2017; therefore, an increased caseload is anticipated from the District Attorney's Office. The office will establish a Sexual Assault Cold Case Working Group, contract additional personnel, and develop and implement victim-centered communication and coordination strategies.
News and Events
Could $1 million grant help ease city's rape kit backlog?
— Shellye Leggett, KOAT 7, Oct 4, 2018
The Bernalillo County District Attorney's Office received a $1 million grant as part of the Sexual Assault Kit Initiative for the investigation and prosecution of cases stemming from previously unsubmitted sexual assault kits.